Allway PBT001 Portable Bluetooth Speaker with Changing Lights
1. Colorful lighting effect with 3 light modes (dynamic flow, multicolor breathing, single color breathing).
2. 360° surround sound for all direction audio enjoyment.
3. Compact but powerful, 1.5-inch speaker with bass enhancement, delivers punchy and rich bass that is beyond imagination.
4. Convenient connection, Bluetooth 5.0 with AUX IN, easy to operate.
5. Creates a home theater with two TWS PBT001 speakers via Bluetooth connection, easily achieve stereo experience.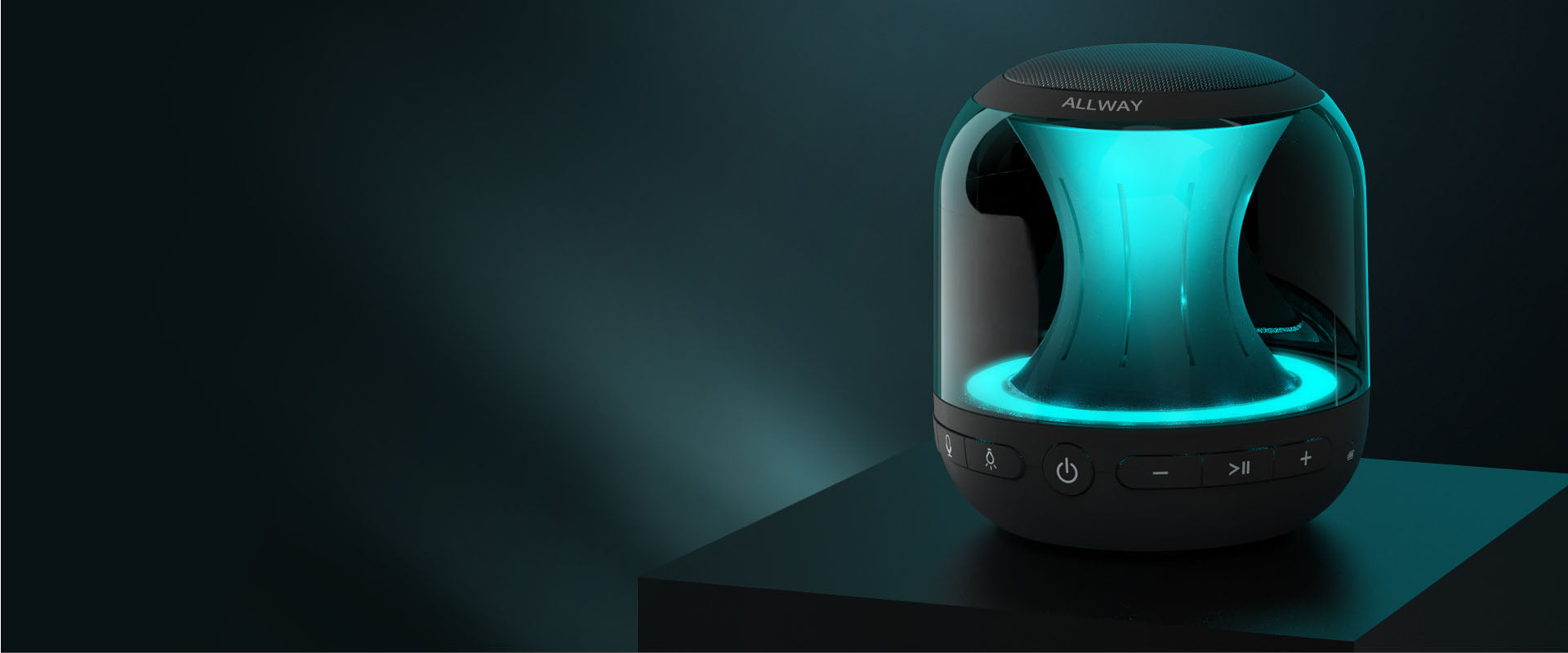 3 lighting modes
Brilliant and Witty
The light effects operate automatically along with the rhythm of your music. In the breathing mode, the light is soft and switch between bright and dark as exhale Inhale.

* 3 lighting effect modes: dance with the groove/multi-color breathing / single-color breathing
Open wireless headphones are headphones that don't clog or cover your ears so you can hear your music and surroundings at the same time. This unique experience makes them the preferred choice for running and working out, they allow you to enjoy the music without losing the ambient sound around you.
You may have heard about open-ear headphones and the technologies that drive them, but what are they good for? Well, they're good for many scenarios especially if you don't want to compromise your safety or situational awareness, which means they are perfect for running or working out outdoors. They are better than in-ear headphones in terms of allowing runners to notice the elements that surround them and preventing potential hazards. If you're a race enthusiast who prefers running to music, open-ear headphones may be your only option as some races don't allow runners to wear anything in their ears. Even if you are not looking for running or workout headphones, but are fed up with the irritation brought by wearing in-ear headphones for an extended period, the unique design of Allway Powerlace10 makes them a top choice for you; these headphones make no contact with the entrance to the ear or the inner ear, and they don't require the tight fit needed for bone conduction, which offer more natural listening experience plus high-quality sound.
The majority of open-ear wireless headphones use bone conduction technology to send vibrations directly to the inner ear, bypassing the eardrums. Though this technology works well, it requires a tight fit between the bone conduction headphones and the wearer. Moreover, it has significant audio-quality limitations as bone conduction technology fails to deliver clear and consistent sound as traditional audio technologies that send sound through the air. And between the fit and the vibrations, some find bone conduction headphones to be simply uncomfortable. Instead of sending sound waves through the wearer's bones, Allway Powerlace10 sends sound waves through the air for a more natural listening experience. Two 16 mm drivers provide rich, full-range sound while minimizing the sound that can be heard by others nearby-reducing the sound spillover problems caused by open-ear designs. Plus, they don't need to be too tight. They are designed to sit securely in the natural curve of the ear, and the precisely placed acoustic port directs sound to the ear.